India's National Magazine
From the publishers of THE HINDU
Vol. 15 :: No. 02 :: Jan. 24 - Feb. 6, 1998

---
MUSIC
Low on high notes
The music season in Chennai has witnessed a phenomenal increase in the number of concerts and sabhas involved. However, music of outstanding quality was at a premium this time.
GOWRI RAMNARAYAN

FOR years, reviewers and a section of music lovers have been critical of the excessive increase in the number of sabhas and the concerts they organise during the annual Chennai music season. But even the most blase among them cannot help feeling a certain thrill when the season actually begins. The question is: how long does it last?
K. PICHUMANI

Semmangudi Srinivasa Iyer, the grand patriarch of Carnatic music, with M. Balamuralikrishna on the viola.
Launched as evening entertainment for delegates to the 1927 session of the Indian National Congress, the festival has swollen to mega proportions (Frontline, January 24, 1997). The season now gets under way in November and gains momentum by mid-December; the curtain comes down in January. Despite a decline in the extent of sponsorship and in the numbers of the floating population of non-resident Indians during the season, the number of concerts this season exceeded the figure recorded in 1996: some 1,700 concerts at 59 venues big and small. A stupendous season, it makes the people of Chennai feel proud that their home town is the cultural capital of India.
But what of quality? Did the 1997-98 season present anything better than the fare that was on offer during the rest of the year? The answer is no. There were a few outstanding efforts, but the season increased the odds against excellence. The more popular artists gave some 20-25 performances within a month, and the high frequency tended to make the level of their presentations extremely uneven. Worse, it was the same top artists who did the rounds everywhere. So the schedule of all the sabhas was virtually the same. "We cannot be selective," the artists admit. "If we try to be, organisers accuse us of playing favourites." But there is also competition among the artists, often confined to the number of concerts to which each of them are invited, and a determination to make one's mark on the press and the public. This peaks during the season.
Musicians lament that the same people who spend lavishly on an evening out - at the cinema, for instance - cavil at buying tickets for a music recital. This year did witness queues for ticketed performances; however, they were mostly for the 'stars' who had glamour. Audiences clearly voted for packaged glitz and fireworks. A notable exception was vocalist Sanjay Subramaniam, whose concerts drew large audiences at several venues. On occasion, chitra veena maestro N. Ravikiran played to a sparse hall and N. Vijay Siva brought off a marvellous Kalyani before what can only be called a respectable gathering.
Perhaps it was not so respectable, after all. Because, here, as in virtually every concert, the audience felt free to come and go as it pleased. One wondered why the Music Academy, for instance, did not take the lead in closing the doors after the commencement of a performance, opening them only between numbers to let the latecomers in. This suggestion was made not long ago at the Academy by Dr. M.S. Swaminathan.
R. RAGU

Neyveli Santhanagopalan, one of the most original performers of recent times.
For many listeners the free concert is an irresistible attraction. But during the season, only the Music Academy hall was packed during the free noon sessions. Other venues had their chairs filled only for the chosen few such as S. Sowmya or Nithyasree Mahadevan. Vijayalakshmi Subramanian performed to a near-empty auditorium at the Sri Krishna Gana Sabha. It was the rasikas' loss, for her Bhairavi was excellent and her pallavi in Rishabhapriya sparkled.
IN many concerts, the stage often became a battleground, with vocalists, instrumentalists and percussionists locked in jazzy, earsplitting contests. The on-stage storms brought forth thunder from the hall too - in the form of robotic ovations. It happened noticeably during the performance by Kadri Gopalnath and Kanyakumari; the latter's violin, with its contact mike, was at times as harsh on the ear as the saxophone of the former. The combined sound almost drowned out the drums. At one point, Gopalnath reeled back from the deafening feedback he got when he blew extra hard.
The acoustics in many of the auditoriums in the city leaves much to be desired. Despite repeated criticism, the organisers have not addressed this basic requirement. If sound engineers were employed to monitor the amplification system, one rarely saw any evidence of it. What one got almost everywhere was a constant blare in which the accompanists and the main performer were poorly aligned. Worse, this alignment kept shifting through the recital - which made it a torture for the tympanum. Most sabhas use antiquated equipment and deploy two giant speakers up front on either side of the stage, which makes for a lopsided distribution of sound. Those seated in the back rows were the blessed ones.
Artists were frequently seen signalling for the volume to be pushed up. Nothing seems to convince some of them that at a certain volume music turns into noise, losing all the refinement of classicism. Few, if any, of the artists have learnt the proper use of the microphone. They see the microphone as a magical aid to disguise the flaws of voice and the limitations of its range and power.
R. RAGU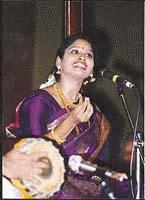 Nithyasree Mahadevan intrigues by her extraordinary potential in every facet of classical Carnatic music.
Relying on the mike, almost every vocalist remained a madhyasthayi (middle octave) expert, shrill and shaky in the upper register and shying away from the lower. And they have perfected the art of closed-mouth singing. Robustness is replaced by feebleness. Is it that they are afraid of sounding off-key if they open their mouths in the full-throated akara (enunciation of the vowel a) mode? Even those who have been trained by seasoned gurus were not free of this flaw. It affected P. Unnikrishnan's otherwise marvellous performances. This year he offered measured, sophisticated music with confidence. His kritis - be they "Sarasiruhasana jaaye" (Pantuvarali) or "Sari evaramma" (Bhairavi) - were soaked in true feeling. Similarly, Bombay S. Jayashri continued to abjure the akara. The result: an attrition of vibrancy in the melodiousness which marks her basic approach.
Barring some exceptions, the concerts offered little originality and less innovativeness of the genuine, pathbreaking kind. Most of the artists stuck to the trodden path and sought refuge in formulas that guaranteed artificial stir and automatic applause. The idea seemed to be: the faster the pace, the greater the success of the performance. Many relied on the percussionists to bolster their swara-singing, spiralling to a vortex of calculated crescendos with spectacular rhythm fusillades. Such roller-coaster rides, however, sacrificed bhava.
IT was a salutary experience to listen to Semmangudi Srinivasa Iyer, who will soon be 90, at the Tyaga Brahma Sabha. His voice and tala were not unstrained, but there was nothing wrong with his approach, which testified to a lifetime's commitment to the art. As he unfolded "Merusamana" (Mayamalava gowla), "Marivere" (Anandabhairavi) and "Marubalka", the Sriranjani kriti that made audiences susurrate with rapture in his heyday, a master spool of memories unwound itself in the listener's mind. Semmangudi also gave a taste of his swara singing in which he remains inimitable, thus setting new goals for the many young musicians in the hall.
M. Balamuralikrishna's acc-ompaniment on the viola may not have been tailored to answer the patriarch's needs, but he played with such grandeur and purity, extracting the essence of each raga and phrase, that you wished he would adopt this style in his singing, or play more on the viola!
N. BALAJI

Mala Chandrasekhar.
Many senior musicians including K.V. Narayanaswami, T.V. Sankaranarayanan and Mani Krishnaswami continued to preserve the chaste tradition, which may not cross the boundaries of predictability but also held fewer disappointments. If they struck form, it was sheer enjoyment.
Some artists plodded along while they had only their reputations to aid them. But most of them have an asset the youngsters lack - a style that is consistent and clearly assignable to the school that they were trained in. This makes for a stylistic variety that has been ironed out in the products of the 1980s and 1990s. Nedunuri Krishnamurti left his impress with clarity of diction, ragabhava, practised expertise and sincerity of effort. When one heard Suguna Purushothaman, one knew she owed everything to the Musiri Subramanya Iyer bani (style). R. Vedavalli continued to draw inspiration from guru Mudicondan Venkatrama Iyer, shunning all encroachments, though this is a style too cerebral and therefore not immensely popular. Whatever the nature of their individual achievements, it is this uncompromising attitude that has watered the deep, multipronged roots of the Carnatic tradition. What form will the music take in its absence?
Among those who refused to make concessions or compromises and were therefore heard only by small groups of committed listeners were vocalists Seetha Rajan and Rama Ravi. Their performances at Nada Inbam (a sabha that is determined to promote good rather than populist fare) had a touch of class. Both brought tears to the eyes of the few who were present and warmed the heart with the tranquil joy evoked by their total dedication to their art. Even applause seemed a harsh intrusion.
AMONG the instrumentalists, the Sikkil sisters and N. Ramani provided sedate music on the flute, with flashes of brilliance that were worth waiting for. T.N. Krishnan and N. Rajam gave a moving violin performance on the occasion of the birth centenary celebration of their father and guru, Vidwan A. Narayana Iyer. Their spontaneity, superb craft and emphasis on melody made their alternative playing of Carnatic and Hindustani music a relishable jugalbandi. The Lalgudi team - father Jayaraman, son Krishnan and daughter Vijayalakshmi - synchronised delectably to present ragas and kritis in a style the violinist has developed over the years to create voice-life effects with the instrument. Their artistry was disguised in a blend of the profound and the popular.
K. GAJENDRAN

P. Unnikrishnan offered measured, sophisticated music with confidence.
This year's Sangita Kalanidhi (the title that the Music Academy confers) M.S. Gopalakrishnan displayed his genius in which the traditional elements were confined to the brief, initial slow movements - whether of alapana or swara. The middle and higher speeds become an endless array of acrobatics - there was amazing craft but no soul. At one concert his Kiravani, subjected to bewildering changes in bowing techniques, became surreal, sounding much like the background scores in East European art films. But all this made for surefire success in terms of audience enthusiasm.
Several musicians who are not part of the ritzy circuits could be counted upon to be interesting. T.K. Govinda Rao's flights of imagination, weight of musicianship and mannerisms ensure that he is different from the run-of-the-mill products. Vairamangalam Lakshminarayanan proved that he could engage attention by full-blooded music and sound pathantara of the old school. Veteran P.S. Narayanaswami's recitals were learning experiences in the reverential and measured approach to stately classicism. T.R. Subramaniam's scholarship and laya orientation were revealed for judicious absorption.
CARNATIC music has never had such an abundance of young performers; in fact, they seem to outnumber the young among the listeners. Almost all of them have acquired a high level of proficiency in theory and the packaging of their offerings. A welcome trend that was noticeable this year was their return to classical ragas and compositions. One heard less of Nasikabhushanis and Suvarnangis, where the performer could only go up and down the scale or try catchy gimmicks. The kritis in rare ragas were sung mostly as brief interludes between major ragas that can be infused with feeling and treated expansively. Compare young T.M. Krishna's programme - Begada, Durbar, Pantuvarali and Bhairavi - with the populist slant of K.J. Yesudas - Kanakangi, Hamsanandi, Manavati, and a pallavi string of exotica with Revati, Saudamini and Sankarantapriya!
But how were the old and profound melodies treated by the young artists? Many of them betrayed their penchant for the straight notes and glides of the Hindustani mode. Kalyani, Mohanam, Madhyamavati, Pantuvarali, Kiravani and Simhendramadhyamam were the casualties of this fad. Nalinakanti, Suddhasaveri, Latangi and Vachaspati were more easily oppressed. Fortunately Begada, Sahana and Ritigowla could not be so tampered with, but the load could be, and was, shed.
M. MOORTHY

N. Vijay Siva.
S.P. Ramh possesses a good voice with a pleasant tone and resonance in the lower register; but he is yet to cultivate depth of vision or expression. Nor has he firmed up his voice in the higher sancharas or acquired command over karvai and sangati. Others like Balaji Shankar and Papanasam Ashok Ramani seem to be in a dilemma about whether to explore the high way or take the short cuts of formula fare. Their uneasy compromise, it appears, is to try both tracks in the same concert with different ragas and pieces, but this results in a loss of consistency, unity and identity.
In the case of Ashok Ramani, audience expectations based on his lineage were demanding: he is the grandson of Papanasam Sivan, one of the best-loved composers of this century. Shankar has to withstand the insistent tug of Hindustani techniques which his rich, wide-ranging and altogether excellent voice is able to adopt effortlessly.
The most convincing effort came from T.M. Krishna. He shows an upward mobility in conception and execution. Rigorously abstaining from anything that smacks of tinsel and spangle, he dives for the pearls each time and finds them often enough to satisfy the earnest. He balances feeling with reflection. Young Kiranavali has not allowed the reputation of brothers N. Ravikiran and N. Shashikiran to daunt her. She has a wonderful voice, a touch of huskiness to lend it distinction and depth, and a malleable timbre. It revels in ragabhava and brings off the gamakas with an ease which does not ignore their luminescence.
Rajkumar Bharati too has a background which arouses expectations. The grandson of the poet Subrahmanya Bharati has added to his kutcheri repertoire many Tamil lyrics which his clear, smooth voice is able to render with fervour.
R. RAGU

Seetha Rajan, who are among a rare group of artists who remain uncompromising in their pursuit of excellence.
Sanjay Subramaniam and Vijay Siva have remained uncompromising in their pursuit of excellence. Siva keeps working on improvements in the various aspects of his music in raga and laya. While retaining the unique features of guru D.K. Jayaraman's emotive style, vast pathantara and clear diction, which accent the melody and the meaning, Siva has developed his imagination as well, avoiding all lures to abandon the high goals he has evidently set for himself. He does not indulge in the maudlin for easy appeal. His control of laya anchors his music very soundly and prevents excess.
Sanjay Subramaniam continues to exhilarate with his imagination and tireless probes into the depths. There is no complacency in his search, he is imbued with a sense of adventure, takes some risks which mostly pay off, and shares his excitement at fresh discoveries unreservedly with his audiences. He takes care to avoid standardisation in whatever he does. But this year he modelled certain attempts after the stalwarts of yesteryear. If his Mohanam followed by "Sri Ramaramani manohara" bore the stamp of the late G.N. Balasubramaniam, his Khambhoji recalled the expansiveness of Semmangudi. They were more a tribute than an imitation, but it is a tendency that must not be used in excess. The slow savouring of the niraval and swara were marvellous each time.
Carnatic music has often thrown up prodigies - some burning themselves out swiftly, others adding maturity to intuition. E. Gayatri (veena) has gained expertise in the fast and slow movements, to evoke a variety of moods with deft fingers and mind. Ravikiran continues to scale heights with a mellow artistry that is touching in one so young. He was able to exploit maximally the tonal richness and continuity of the chitra veena to produce reposeful music ranging from the majestic to the gentle. He preserved the form of the kriti as few instrumentalists could.
U. Srinivas, no less adroit and sincere, had to contend with the fact that mandolin does not permit grandeur as much as the display of virtuosity. Srinivas, who is partial to speed, was unable to reach that tranquillity which the best music demands, where the nuances are not lost in the feverish race. The prodigy of more recent years, flautist Sasankh, seemed to continue the downslide registered in 1996. He has fallen victim to the trend towards showmanship, to the regret of rasikas who yearn for his gem-like Khambhoji or Kedaragowla with which he burst upon the scene.
R. RAGU

T.M. Krishna.
Among the stars, Sudha Ragunathan retains her crowd-pulling magnetism. S. Sowmya has opted to be a little trendier than before, and with dry patches in her fertile imagination.
Flautist Mala Chandrasekhar is among those who keep honing their skills. Purity, of tone and and in the handling the raga, lent beauty and dignity to her music.
Although violinists have in general made remarkable strikes, not all of them restrain themselves as accompanists or match the style and mood of the main performer. Their exuberance makes them take the lead on occasion, and this distracts the singer. Lalgudi Vijayalakshmi continues to impress with her controlled power and the melting mellifluousness of expression. This is no doubt derived from the training by father Jayaraman, but she exhibits also a mind of her own which never swerves from good taste.
Bombay Gayatri is another outstanding performer, with a sweetness of tone, strength of bowing and powerful imagination. Mysore Nagaraj and Manjunath remain unrivalled in the honeyed contours they bring off, while Sriram Parasuram brings depth, sobriety and the sheen of constant polishing to his strings. R.K. Sriramkumar remains steady, quick in anticipation and determined to be true to a spiritual heritage. M. Narmada is wayward - commanding and listless by turns.
J. Vaidyanathan easily heads the young percussionists who have made their mark - for his subdued skills, tonal variety, discrimination and judgment. His accompaniment in the kritis is a treat because few can do this sensitively. Among others to impress with different styles and temperaments were K. Arun Prakash, Neyveli Narayanan, Arjun Kumar, Bombay Balaji, Tiruvarur Vaidyanathan, S. Karthik, B.S. Purushothaman, A.S. Shankar and Selvaganesh.
Duos continue to be popular, particularly the Hyderabad brothers Seshachari and Raghavachari (their energy combating the deja vu effect), the Rudrapatnam and Malladi brothers (both got good reviews), the Priya sisters, the Mambalam sisters, Lalitha and Haripriya, and the violin duos of Gayathri and Ranjini as also Lalitha and Nandini. These names were encountered everywhere, mainly in the noon slots.
K. PICHUMANI

Sasankh. Today, Carnatic music has an abundance of young and talented performers.
IN music as in any of the arts, the body and mind are made up of sound training, a basis in tradition, intelligence, judgment, skills in technique and some element of that nebulous thing called charisma. But the spirit comes from creativity, which dares to be different. Craft is indispensable, of course, but at a certain stage the creative mind is possessed by something beyond, inducing self-forgetfulness in the artist and the audience. The path is not smooth.
Two young vocalists at different stages of evolution, with wholly contrasting styles, came close to this archetype.
The first was Neyveli Santhanagopalan, one of the most original performers of recent times. He sings for no one but himself, and often seems bemused by his not attaining what he has conceived in terms of exact vocal expression. But what was attained was moving and stately, where redoubtable expertise was combined with ripe feeling. His voice is at home in brika, gamaka, karvai, in speeds high and low. The mind directs the voice in no-holds-barred adventures in rakti ragas. There are several eccentricities, some extraneous and some intrinsic to the music. But they do not distract the listener from the magnificence of the vistas unveiled; some of these have been recaptured from forgotten terrains, others are new-found, but all are equally framed with reverence for tradition. There are areas that are still to be worked upon for greater effectiveness, but Santhanagopalan's genuine quest and fascinating vision are not in doubt.
Rising star Nithyasree Mahadevan intrigues by her extraordinary potential in every facet of classical Carnatic music. She has a voice with incredible range, power and a natural radiance. But she seems to have no control over it, nor is there any conscious modulation. Its magic seems to possess her and push her along its electrifying currents, to dazzle rather than to satisfy. Subtleties are lost in this treatment.
Her mastery of laya is amazing. She could retain the essence of the main piece and ragamalika frills in a pallavi which demanded juggling constantly with tisra and khanda beats. She can rain swaras in any speed and improvise alapana or niraval, highlighting the characteristic texture of each. She can make the same Todi or Bhairavi sound different on different occasions. She is as much at ease with an imposing Dikshitar kriti as with a lilting tailpiece.
But lack of restraint and judgment and untrammelled loudness, particularly in the upper register, reduce the impact considerably. Will this young inheritor of a sound tradition (she is the granddaughter of doyenne D.K. Pattammal) bridle her Pegasus and transcend glitz to achieve greatness?
---
Table of Contents
Frontline | The Hindu Full Text | The Hindu News Briefs | Business Line
This page is best viewed with