Guru Brahma Guru Vishnu Gurudevo
Maheshwaraha
Guru Satchath Param Brahma Thasmai Sri
Guruwaenamaha

Nithyasree is a disciple of her mother Smt.Lalitha Sivakumar,who is a student of Smt.D.K.Pattammal.She has been given a strenuous and meticulous training by Smt.Lalitha from the tender age of 5. It was her mother who inculcated in Nithyasree the spirit or urge to learn this divine art.The low profiled mother and guru Smt.Lalitha is a very talented artiste and efficient teacher who has many students.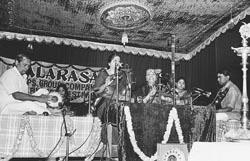 Smt.DKP and Smt.Lalitha Sivakumar accompanied by Sri.Sivakumar(mridangam) and R.K.Sriram Kumar (Violin)
Nithyasree has also had advanced training and expert advice from her grand-mother Smt. DKP.Nithyasree feels that it is her gurus who have made her what she is today and humbly dedicates everything to them.